Our promise
Shaping the future
For more than 90 years, Mitsubishi Electric has set new standards in the field of air-conditioning and heat pump technology and is one of the major producers in this field on a global scale.
Within the scope of our Eco Changes program, we are actively contributing to the creation of an eco-sustainable society and the protection of the environment.
For this reason, we have conformed to the new EcoDesign directive of the EU and we have adapted our range of products to the new values of seasonal measurement.
Active environmental protection: our environmental vision for 2021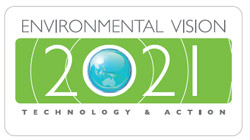 Environmental Vision 2021 is the long term environmental management program of Mitsubishi Electric which aims to achieve, by 2021, the date on which the centenary of the foundation of the company falls, significant and specific results in this area.
The program is based on the principle of "Technology & Action", and aims to contribute positively to the preservation of planet Earth and its population.
The objectives of this program are:
To help prevent global warming
To create a society based on recycling
To ensure harmony with nature
To promote environmental awareness.
The environmental commitment of the Mitsubishi Electric Group

This broad environmental program encompasses the new motto for the environment of Mitsubishi Electric: Eco Changes - for a greener tomorrow.
In line with "Changes for the better", the corporate motto of Mitsubishi Electric that reflects the continuing drive of society towards the search for and the implementation of improvements, Eco Changes is the expression of the commitment of Mitsubishi Electric in environmental management and communicates the continuous efforts made by the company to achieve a greener future thanks to cutting edge environmental technologies and know-how in the production field, for the achievement of a sustainable society..